You might have developed content relevant to what people are looking for, that addresses their queries, and that search engines can comprehend, but these attributes alone do not guarantee that your content will rank. To outrank the other sites that have those characteristics, you must develop authority. This may be achieved through the development of your brand and authoritative links.
Google has verified that links and high-quality content are two of the three most significant ranking criteria in search engine optimization. Trustworthy websites connect to other reliable websites, whereas spammy websites link to other spammy websites.
However, what is a link? How do you acquire them using other websites? Let us begin with the fundamentals.
What are Links?
Inbound Links, sometimes referred to as backlinks or external links, are HTML hyperlinks that connect two websites. They are the Internet's money, as they behave similarly to real-world reputation.
If you went on vacation and asked three individuals which coffee shop in town was the greatest, they all replied "Choco Expresso," you would be sure that Choco Expresso is the best coffee business in the city. That is what links do for search engines.
Internal links, or links between sites inside the same domain, function similarly for your website. Many internal links going to a particular page on your site will communicate to Google that the page is significant, as long as the links are placed naturally and not in a spammy manner.
You Are What You EAT!
Google's Guidelines for Search Quality Raters place a premium on the notion of EAT – Expert, Authoritative, and Trustworthy. Search engines view suites that lack these qualities as lower-quality, but those that do are rewarded.
The more prominent and significant a website is the more authority links from that website hold. A site like Wikipedia, for example, contains hundreds of links from a variety of other websites. This shows that it possesses a high level of knowledge, has developed authority and is well-respected by those other websites.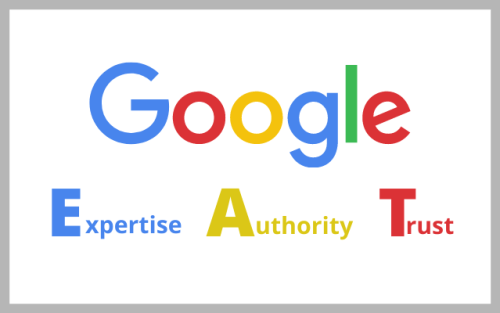 The goal of SEO should be to build a site that is deemed Expert, Authoritative, and Trustworthy. Not only will this result in an improved site, but it will also be future-proof. To gain search engines' trust and authority, you'll need links from websites that exhibit E-A-T characteristics.
The 3 Levels Of Authority
Domain Authority
Domain Authority is a metric used to determine a domain's ability to rank. It is composed of several signals indicating that a website is of high quality and trustworthy. A significant component of such signals is the total authority of all of the pages.

Link Authority
Authority links are links from websites that have earned a high level of trust and authority in the eyes of search engines due to their age, quality, and size. Authority websites will be market leaders, those representing established government and educational institutions, major companies, or industry-leading websites.

Page Authority
Page Authority is a metric designed to show how a page would rank in the Search Engine Results Pages (SERPs). It is important to distinguish page authority from domain authority, which is used to assess the authority of an entire website.

Why Is Domain Authority & Authoritative Link Building Important?
Dominance authority is a measure of a website's comprehensive quality and performance on search engine results pages (SERPs). This implies that if your referring domains have a high Domain Authority (DA), they will pass on more beneficial link juice to your website. On the other side, referring to websites with a low DA may not be worth your attention.
Besides domain authority, it would help if you also considered additional indicators such as page relevancy, local search ranks, authority links, and click-through rates (CTRs) to optimize the ranking possibilities of a referring domain and bolster your SEO link building efforts.
Are you unable to carry out your link development strategy? Collaborate with a reputable link-building firm.
At SEO agency Melbourne, we understand how difficult and time-consuming it can be to manage your day-to-day operations and improve your link-building strategy. That is why we provide white-hat link-building services to boost your website's vote of confidence.
Work with Us to Improve Your SEO by Utilizing Our Link Building Solutions
SEO strongly discourages unethical link creation techniques. Many businesses opt to automate their link acquisition operations by utilizing black hat SEO link-building methods. While this approach produces instant results, using unethical link-building services may result in your website being punished and, in the worst-case scenario, being blocked from search results. Don't let it be the scenario.
Integrate Platinum SEO authoritative link-building solutions into your digital marketing strategy to increase quality traffic, indexability, and brand awareness.
We are a respected link-building firm dedicated to providing authorized link development methods that are customized to your industry's particular requirements. Apart from developing customized link-building strategies, we also construct an internal SEO link-building wireframe to help you optimize your website's backlink approach.